This is a notice that was posted in the newspaper when my grandfather, John Thomas MacLeod's plane was shot down during the 2nd World War: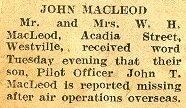 Could you imagine being a parent in the 1930's with no internet and barely any phones? Parents might not know their son/daughter is dead/alive for days/weeks/months.
Writing from memory and being brief, my grandfather was a figher pilot in the 2nd World War. He was shot down by enemy gunfire and in order ot survive, he had to climb out onto his wing and parachute to safety. However, when he landed safely on the ground, he was captured by German soldiers and taken as a captive. He told me that he was a captive for roughly 40 days and during that time was required to sleep in a closet standing up, was fed water and bread and saw his fellow comrades executed in front of him by gunshots. He was lucky to survive and later became the father of 5 children, one of them being my mom, in my eyes, the most amazing person that I will ever know.
He passed away in April of this year and I unfortunately was not able to fly home to attend his funeral. I was in the middle of exams and my grandmother told me to stay here and study and be a good student.
I talked to my grandmother on the phone last night and it was great to hear that she is doing ok. She told me that on Sunday in church they read a brief summary of grandpa's time in the war in a moment of remembrance for him and what he did.
Margo is up visiting grandma and in addition to visiting grandpa and mom's gravesites, I think they are going to be attending the remembrance day ceremonies at the cenotaph. That is a cereomony I wish I was there for. Maybe next November 11.
In any case, no matter where you are or what you are doing on November 11 at 11:11am, please take a few moments and remember those who have fallen, those who are serving us and think about how different our lives would be had it not been for them.
RIP John T.